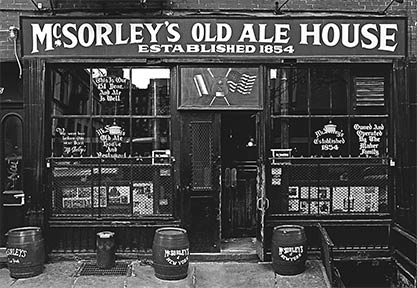 On Saturday October 27th at 10 a.m. New York historian, author and Educator, Geoffrey Cobb will talk about the long and colorful history of this New York landmark and institution. Mr. Cobb recently wrote about the history of this special "Ale House" in Canada's History. His article discussed the McSorley family history, the pub's admission of women in 1970, and the many historical figures who have imbibed over the generations in this unique place. He will bring this rich expertise to an intriguing presentation right in the place itself, at McSorley's Old Ale House, near Third Avenue at 15 East Seventh Street in the East Village. NOTE: This is an exclusive visit for Roundtable members. Proceedings start at 10 A.M.
Opened in 1854 by Irish immigrant John McSorley, this New York City special institution has been voted the best Irish pub in the world outside of Ireland by the Irish Times. Decorated with hundreds of pieces of authentic New York Irish memorabilia, McSorley's is part alehouse and part history museum.
Unlike other historic New York pubs, McSorley's has changed little from the 1850s and offers the visitor an unmatched window back into New York's Irish American past. McSorley's became an important gathering place for some New York Irish as they discussed and made decisions about winning their place in the city's political and economic life. For others McSorely's offered familiarity, friendship and refuge. On its walls and near its bar, artwork, newspapers, memorabilia, polemics, and informal announcements have remained untouched for nearly a dozen decades. For more than a century after its opening, McSorley's was a "men only" establishment (its motto was "Good Ale, Raw Onions & No Ladies.") That practice, which received national attention for years, was notably changed in 1970. Ladies are now welcome, and current mottos at McSorley's include "Be Good or Be Gone" and "We were Here before You Were Born."
Geoff Cobb is a regular contributor to history publications including New York Irish History and Irish America magazine. He is the author of several books on figures and places important in the history of Brooklyn. A frequent speaker and discussant on the subject of Irish New York, he is a vice president for local history for the New York Irish History Roundtable.
Save The Date
A Special Visit to McSorley's
Saturday, October 27, 2018, 10 a.m.
Mc Sorley's Old Ale House
15 East 7th Street, Manhattan
(East of Third Avenue)