On Saturday, March 3 at 2 p.m., historian Art Mattson will tell the story of terrible shipwrecks in the 1830s that resulted in the deaths of over 200 immigrants just outside the port of New York. Most victims were Irish, many of them women and children drawn to the freedoms and expanding opportunities in America. They had chosen to cross the Atlantic during a treacherous sailing season. And they almost succeeded. This program will take place in the parish house of the Basilica of St. Patrick's Old Cathedral, 263 Mulberry Street, in Manhattan. A reception will follow. Suggested donation: $5.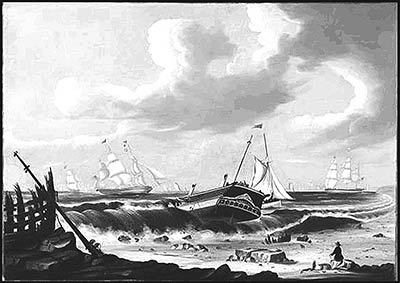 In the winter of 1836–37, two landmark events occurred when 215 people perished in shipwrecks off Long Beach and Rockaway Beach, within shouting distance of shore. Most victims were Irish immigrants and New York was their destination. Passengers on the ship Bristol drowned in minutes when it was stuck by a rogue wave. Those aboard the Mexico froze to death on the stranded ship after their captain and crew abandoned them. These shipwrecks are among the most important ones in U.S. maritime history, and among the most dramatic ever recorded. Sadly, the story was forgotten for 170 years.
But the details were uncovered when Art Mattson discovered a weather beaten obelisk in a tiny cemetery in Lynbrook, Long Island. Barely-legible wording said that this was the mass grave of 139 unclaimed bodies from two shipwrecks in the 1830s. With virtually nothing published about the events, research took Art to archives in New York City, Liverpool, and Dublin, and led to revelation of the full circumstances of callous disregard for the passengers' lives. Seemingly, instead of being welcomed to America, such immigrants were referred to as "demoralized," "degraded beings," and "vagrants." Today, thanks to Art Mattson's work, their mass grave is on the National Register of Historical Places.
Art Mattson is the historian of the Village of Lynbrook, N.Y. and a registered historian of the State of New York. He is also a university lecturer and author of two books. These include Water and Ice: The Tragic Wrecks of the Bristol and the Mexico on the South Shore of Long Island, which received the Joseph F. Meany Award for Excellence in New York State Maritime History.